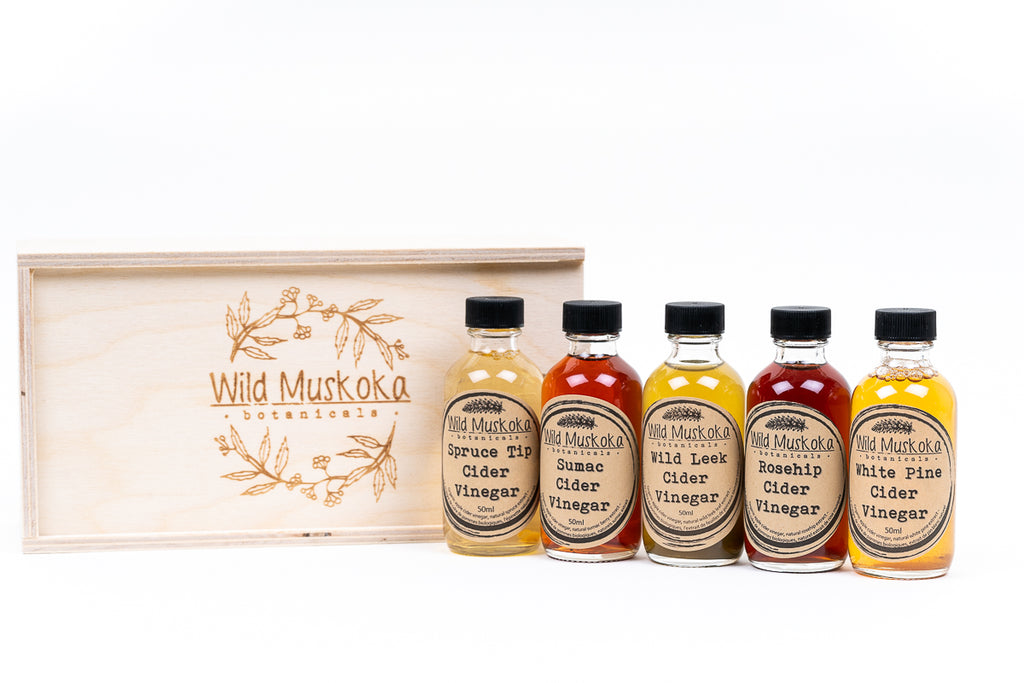 $31.00
$0.00
Wild Infused Vinegar Box
Gift the foodie in your life the ultimate wild flavour surprise box! This sturdy and beautiful wood burned, birch box is packed with five 50 mL bottles of our wild infused apple cider vinegar. Flavours include savoury White Pine, garlicy Wild Leek, tart Sumac, sweet and sour Rosehip, and crisp Spruce Tip.

Enjoy these gourmet infused vinegars in salad dressings, marinades, sauces, or any recipe calling for vinegar. We use wildcrafted and organic botanicals infused in Ontario produced raw organic apple cider vinegar.

Shake before use, sedimentation naturally occurs.

Contents: 5 - 50 mL infused organic apple cider vinegar bottles.
Flavours: White Pine, Wild Leek, Sumac, Rosehip, Sumac.

Box dimensions: 21cm X 11cm X 7 cm

Wild Muskoka Botanicals products are made from organic & ethically wildcrafted botanicals and handcrafted in small batches with care for people and the planet at our core.
Best products around
Are used to get my products from Michigan and it was very inconsistent.
Since working with my wild Muskoka all their products are tasty and delicious. their orders come on time, they're extremely consistent, a great company.
We're so glad you're happy with the order and experience, James. Have fun cooking!
A kitchen staple!
I love having a selection of these vinegars on hand for making delicious and flavorful salad dressings. It comes in a cute wooden box and makes a lovely gift for anyone who enjoys a bit of flare in their food!
Thank you for the kind words Paige