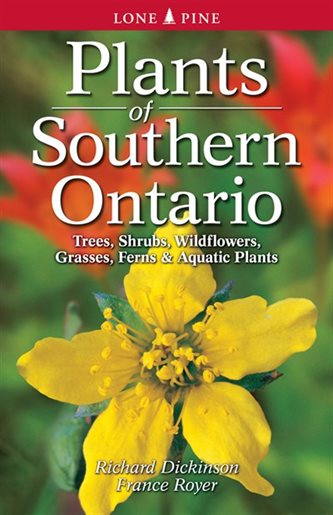 $25.00
$0.00
Plants of Southern Ontario
by Richard Dickinson & France Royer
Southern Ontario features some of the most diverse landscapes in the country and includes unique ecological regions.
This field guide covers the Greater Ontario Area and cottage country north to Sault Ste. Marie, Sudbury and North Bay, from Windsor to Ottawa, as well as the Bruce Trail from Niagara Falls to Tobermory, Frontenac-Rideau Lakes, Point Pelee National Park, Manitoulin Island and Algonquin Provincial Park:
760 species in 138 plant families
trees, shrubs and vines, wildflowers, grasses, rushes, sedges and ferns
extraordinarily beautiful photographs
common and scientific names
clear, concise text that helps with plant identification
intriguing notes providing information about habitat, ecology, similar species, edibility, traditional uses and origins of plant names.
Paperback: 528 pages
Publisher: Lone Pine Publishing; UK ed. edition (April 1 2014)
Language: English
ISBN-10: 1551059061
ISBN-13: 978-1551059068
Product Dimensions: 14 x 2.5 x 21.6 cm